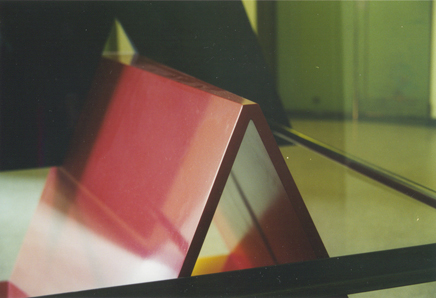 DOBBELTVIOLIN
Træ, (rubinrød og sort) metal og glas, 210 x 210 x 120 cm
Morten Kringelbach, Katarina Lundeberg, Susanne Milne, Gitte Sommer
Scene of the crime. Exhibition at "Politigården" (National headquarters of the police) in connection with Copenhagen Cultural Capital'96. Project with participants from the School of Sculpture and the School of Architecture, Royal Danish Academy of Arts.
Udsat for filtreringens tyngde
Kaster rummet skygger af fravær
Over erindringens labyrint,
Hvor den tabte tid udskriger
Den blodrøde hests smerte
Maskine og maske,
Blikkets metamorfoser
En forførelse under sjælens spejl
Udsat for dobbeltviolinens skingre dissonans.